LAS VEGAS BACHELOR PARTIES
It's the end of an era, the final days before being hitched for good, which means that you and the boys need to have the singles blowout to end all blowouts. Where do you plan this kind of epic revelry where you can fit all of the best things to do in one legendary weekend? Sin City, baby! Our Las Vegas bachelor party ideas have everything your crew desires, swanky hotel rooms, boozy nightlife, and lots and lots of skin. We even have some great bachelor party deals to help save some green when booking your epic weekend, no need to thank us, you're welcome.
BOOK THE ULTIMATE LAS VEGAS BACHELOR PAD
At the end of the day, a Las Vegas bachelor party is only as kickass as the hotel suite you decide to crash in, and Sin City has no shortage of premium pads for you and the boys to choose from. If you want to go for classic opulence, you can follow in the footsteps of the ultimate bachelor party movie, the Hangover, and stay at Caesars Palace, where the suites are dripping with Roman style and gold accents. MGM Grand offers massive suites (some of which have multiple floors!) that give you and your crew killer views of the Strip inside one of the hottest party resorts in the area. These suites make it so you can easily party until dawn with only an elevator ride between you and your cozy bed. For something off the Strip that's just as epic, the Circa Bunk Pad room turns your Las Vegas bachelor party suite into the ultimate hangout spot with bunk beds, a massive sitting area, and a wet bar. If you're a fan of pregaming before hitting the clubs, this is where you want to be.
ENJOY A TASTEFULLY TOPLESS REVUE
For a titillating bachelor party experience that won't cause grief with your fiancé, check out a sexy adult show in Las Vegas. They reveal plenty of skin while still feeling totally tasteful. Fantasy at the Luxor features gorgeous, sexy women, skillful aerial acrobatics, fantastic music, and only the teeniest about of clothing. Another one of our favorites that has the same lack of clothing, but the flirtatious addition of cowgirl boots, is X Country at Harrah's that can seduce even the most urban of city slickers.
SHOOT SOME HIGH-POWERED WEAPONRY
If you've ever considered trying your hand at sharpshooting, Vegas has some thrilling gun ranges for you to test your skills. Machine Guns Vegas offers a wide range of forceful weaponry and has an ultra-lounge vibe to keep your group comfortable while you wait for your turn to pull the trigger. All shooters have a military-trained professional present to give you a one-on-one lesson and to help keep you safe.
CHEER ON YOUR FAVORITE TEAM
Sin City is quickly growing into a massive sports city in the United States, so why not take in a game to cheer on your favorite team (or ours!) for your Las Vegas bachelor party? Football fans can take in a game at the newly built Raiders Stadium that even has a retractable roof to keep in that sweet A/C on sweltering hot days, or you can cool off with a Golden Knights hockey game at the T-Mobile Arena. If you can't make it to the game in person, you can experience every touchdown or goal from one of the fantastic sports bars in Las Vegas.
VISIT OUR STEAMY STRIP CLUBS
There's a reason why visiting a strip club for your last night of singledom is a cliched activity, and that's because they're freaking awesome. Sexy ladies, flowing drinks, and just enough naughtiness to make you blush without getting into any serious trouble with the fiancé back home. Allow us to share our favorite seductive spots for you to celebrate your bachelor party that aren't too risqué. The Sapphire Club mixes their bare-skinned ladies, lap dances, and themed rooms with a high-energy club vibe that even includes one of the sexiest day clubs in the city. The Crazy Horse III is another up-scale Gentleman's Club that knows how to make your day extra spicy. Between the giant comfortable couches for lap dances, hypnotic red lighting, and a wide range of stunning vixens to choose from, this spot feels like it was plucked straight out of your most provocative fever dream.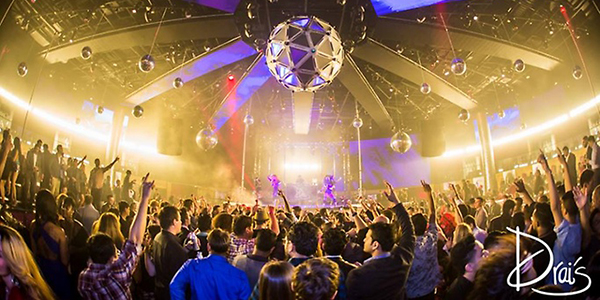 FEEL LIKE A VIP AT A VEGAS NIGHTCLUB
Pop a few bottles and experience life like a high roller for your Las Vegas bachelor party by booking bottle service at one of the many celebrity-approved nightclubs on the Strip. Hakkasan features famous DJ's throughout the year and is always filled with the hottest EDM beats and plenty of bodies on the dance floor. The VIP bottle service at Drai's, another fantastic nightclub in Vegas, has multiple table options at different price points to fit into your budget. Bottle service may sound super pricey, but between the entrance fees and drink prices of these clubs, your boy's night out could actually save a little cash depending on which table you reserve, plus it guarantees you a place to sit and relax between rounds on the dance floor.
TRY YOUR LUCK AT THE POKER TABLES
Take your weekly poker night with the guys up a notch by trying your luck in the Vegas casinos. Poker rooms range from the laid back to the lap of luxury with tableside dining, giant plasma TV's, and high table limits for high rollers. For more competition and higher stakes, there are plenty of poker tournaments that you and your crew can buy into to try your hand against the pros. If you're still a newbie to the game, there's no need to worry because most casinos offer daily poker lessons to help you learn the ropes.
ENJOY A CELEBRATORY CIGAR
You're getting married! Which is absolutely a cause for a special celebration, and one of the classiest ways to commemorate the occasion is to light up a high-quality cigar. Las Vegas allows smoking inside most of their casinos, and many have lavish cigar lounges that are made specifically for lighting up while enjoying your favorite top-shelf whisky. Notable options on the Strip are the Montecristo in Caesars Palace, On The Record lounge at The Park, and the MGM Grand's Whiskey Down, which serves some of the best whiskey flights in the city. If you want to grab a souvenir cigar at a historic spot on Fremont Street, Binion's Gambling Hall has Vato Cigars. They offer a wide range of premium brands that you can bring home for the big day, but while you're here, why not test out your purchase and rent out the casino's brand new cigar lounge for your private party. Nothing says living the high life like lighting up in a vintage casino like the dapper gent you are.
GET BEHIND THE WHEEL OF YOUR DREAM SUPERCAR
A passion for all things on four wheels means that you probably have a need for speed, so why not spend your Las Vegas bachelor party behind the wheel of your literal dream car. Both Exotics Racing and the Dream Racing Driving Experience are located at the Motor Speedway North of the Strip, and they offer a massive range of supercars, both foreign and domestic. You'll get some professional instruction before testing your skills on the closed track to see which member of your crew would make the best getaway driver.
DRINK YOUR WEIGHT IN BEER ON A PUB CRAWL
We know what boys like, we know what guys want, and it's beer, beer, and more beer. This means that a Las Vegas bachelor party pub crawl is a required activity, with no exceptions or excuses.Downtown Las Vegas offers an eclectic range of watering holes within stumbling distance of each other and even a few microbreweries on Fremont Street so you can partake in the local flavors and culture, all while getting lost in the sauce.
ENJOY BIKINI-CLAD BABES AT A POOL CLUB
Can anyone name an outfit sexier than the bikini? Of course not, which is why a Las Vegas pool club is the perfect place to enjoy a little eye candy and a lot of music and booze. You and the boys can rent a day bed, cabana, or bungalow that includes bottle service, food credit, and enough seating for your entire crew, plus any friends you make during the festivities.
SPEND THE DAY ON THE FAIRWAY
Fresh air, green grass, and plenty of sunshine, what more could you ask for when it comes to a relaxing afternoon for your bachelor party in Las Vegas. There are literally dozens of golf courses in the city that range from the simplistic to the swankiest of spots. For the closest back nine to the Strip, the Wynn Golf Club is located directly behind the resort. You'll experience stunning water features, an on-course culinary program, and golf carts fully stocked with plenty of beverages to enjoy. If you're visiting during the heat of summer and don't feel like boiling alive before your nuptials, TopGolf is the perfect air-conditioned alternative. They have multiple game styles and private bays, so you and the guys will feel like VIPs for your entire visit.
BECOME A ROCK STAR AT PRIVATE KARAOKE
If you've ever had the dream of being a rock star like Bon Jovi or Ronnie James Dio, then KAMU Ultra Karaoke is the place to test out those skills with the boys for your bachelor party. This private karaoke spot can accommodate up to 15 guests and features a state-of-the-art sound system, a killer food and drink menu to keep you fueled for your entire private concert session, and the ability to link your personal tunes to rock out to any song you desire. So whether you're screaming it out to Slipknot or crooning to some Frank Sinatra, KAMU Ultra Karaoke is the ultimate spot to test out those pipes.