-presents-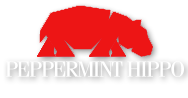 We lucked into an invite to the grand opening weekend of the new Peppermint Hippo Gentlemen's Club in Las Vegas and had a blast. There were over 150 dancers on rotation, an ice luge, open bar, but the place was packed. While we had a great time, it was not conducive to getting all the inside information our guests expect. So what did we do? We went back! The following Monday, we showed up early to get exclusive access to the entire facility, and to spend some quality time with the staff and entertainers!
The Legacy
If you've been with us from the beginning you know the old club at this location was one of our favorite strip clubs in Las Vegas. It had it all, tons of hot dancers, good prices, great service, male revue upstairs for the ladies, and the location on the Las Vegas strip was second to none. But to be fair, it wasn't the most luxurious strip club in town, and over the years everything from the building to the parking lot fell into disrepair. OG's went out of business in 2016 due to internal drama and sat vacant for years. Until the owners of Peppermint Hippo brokered a deal to take over, refurbish, and launch an entirely new operation under their brand.
Exterior
The parking lot at the Peppermint Hippo has been completely revamped. No more potholes and impossible to see lot lines. Enjoy the well-lit, well-paved surface, it's all brand new! The valet area received a full refresh as well, so our guests arriving by limo will have an upscale experience.
The building is completely updated as well, signaling that this is a new era for the location, a new brand identity, and a great place for some adult entertainment in Las Vegas.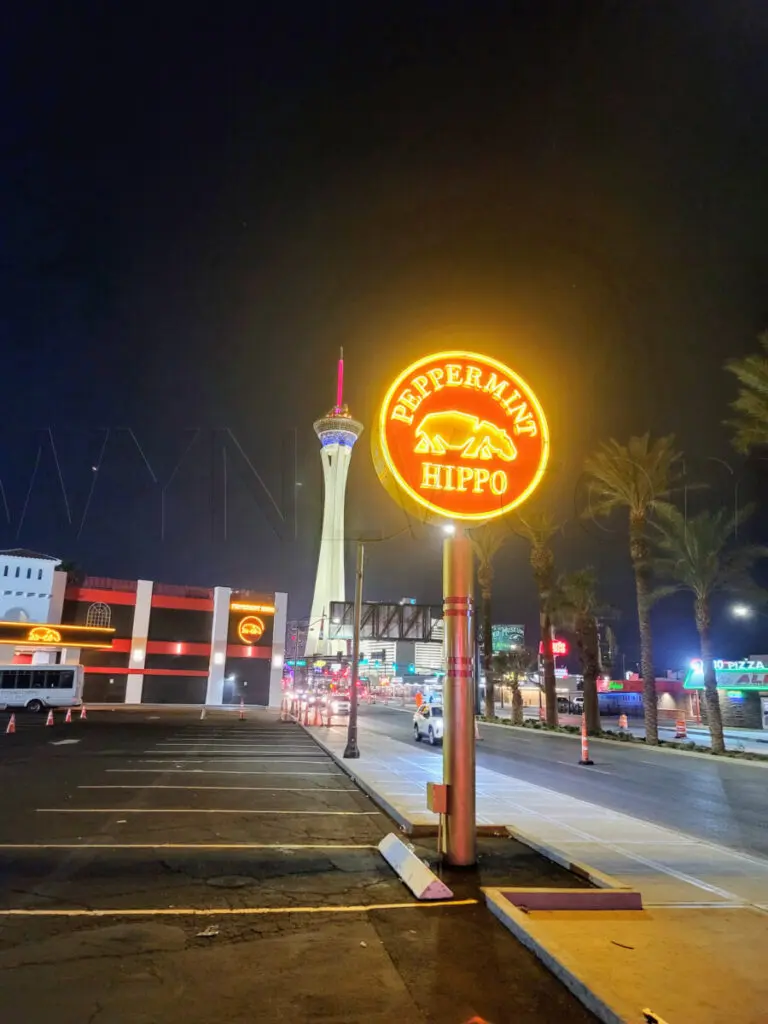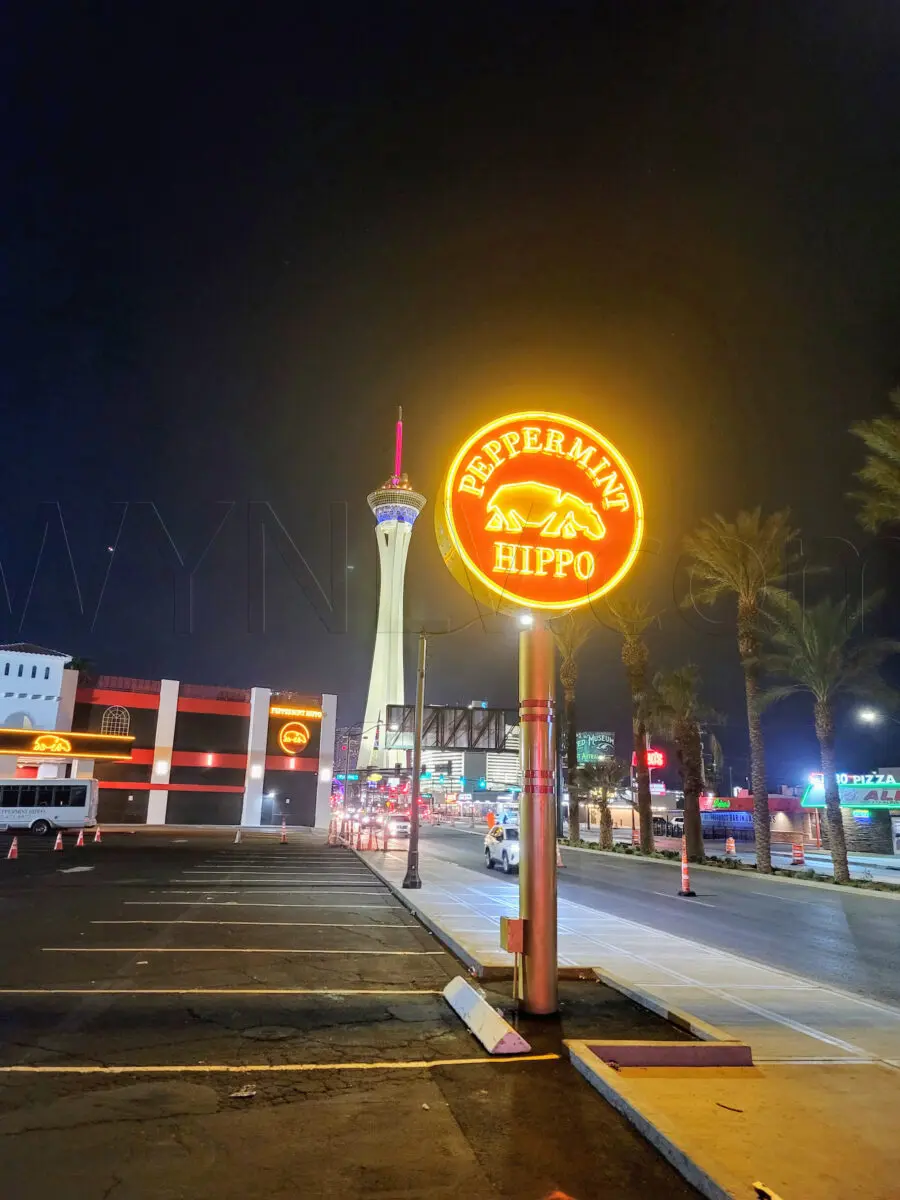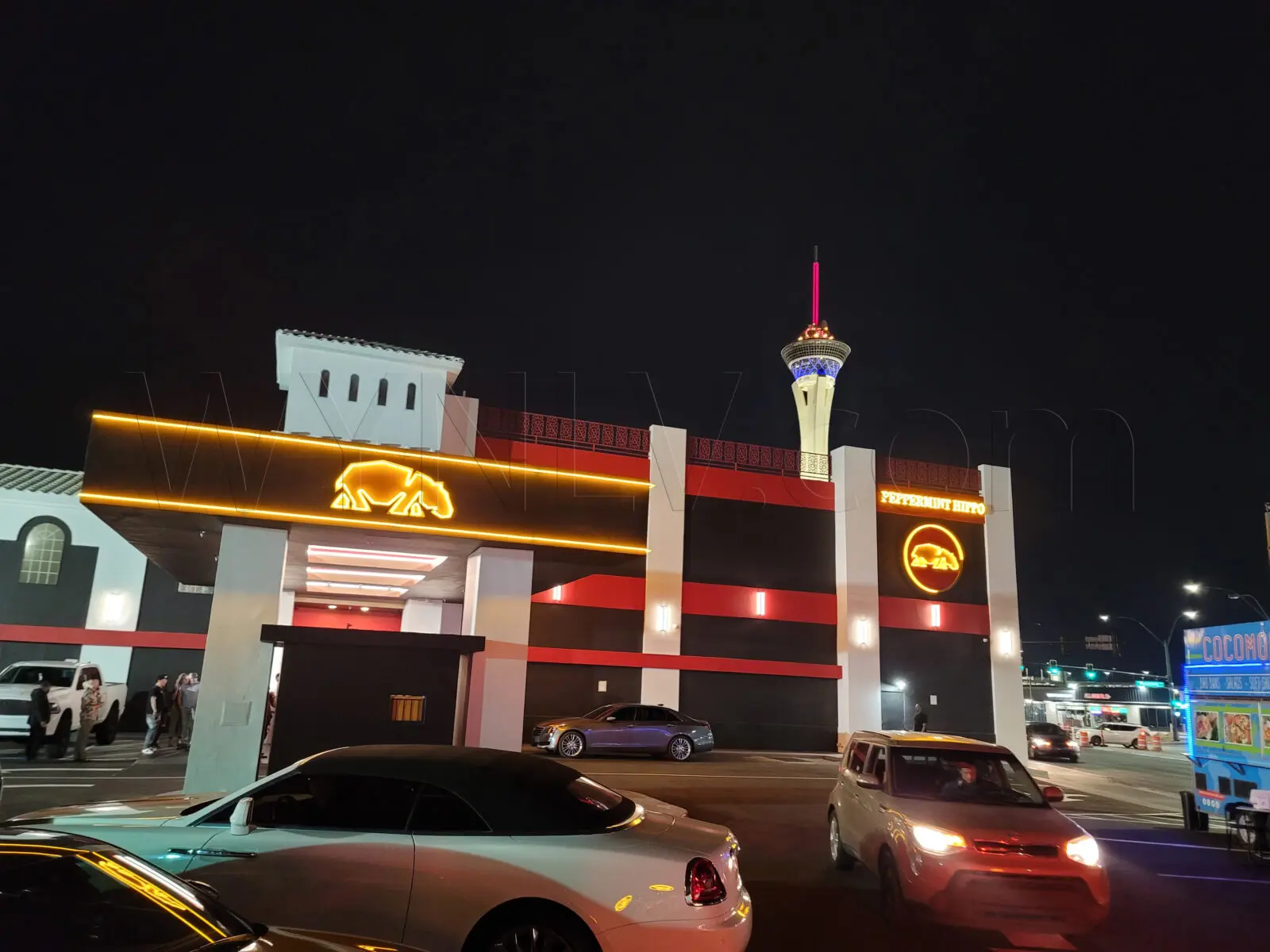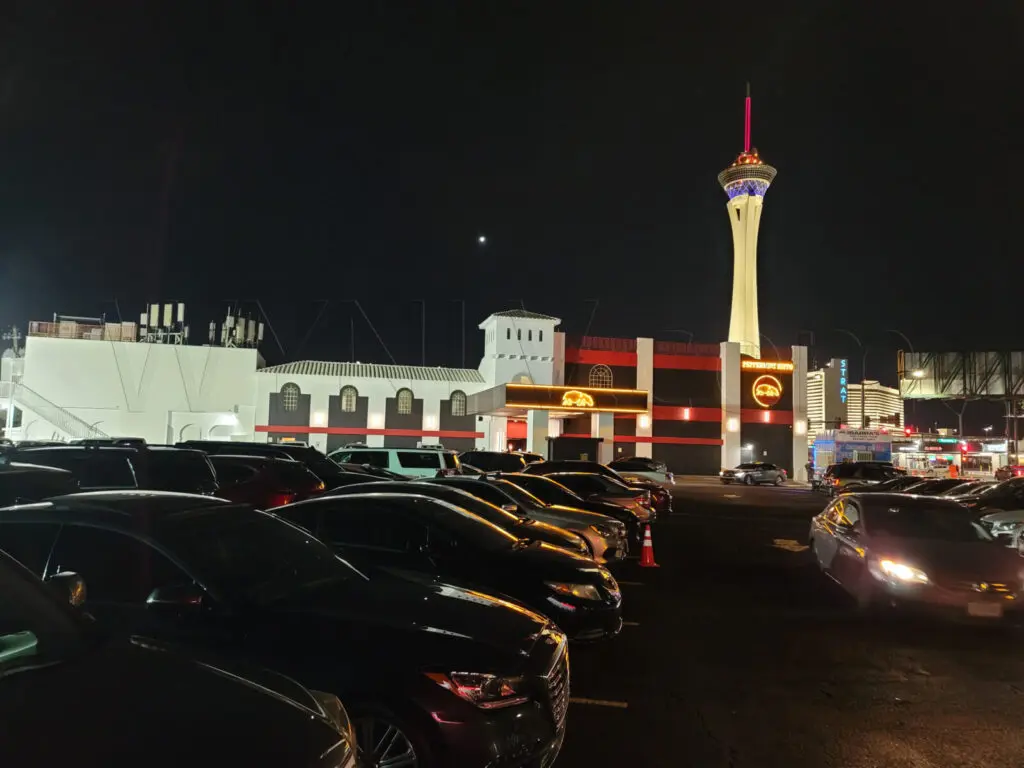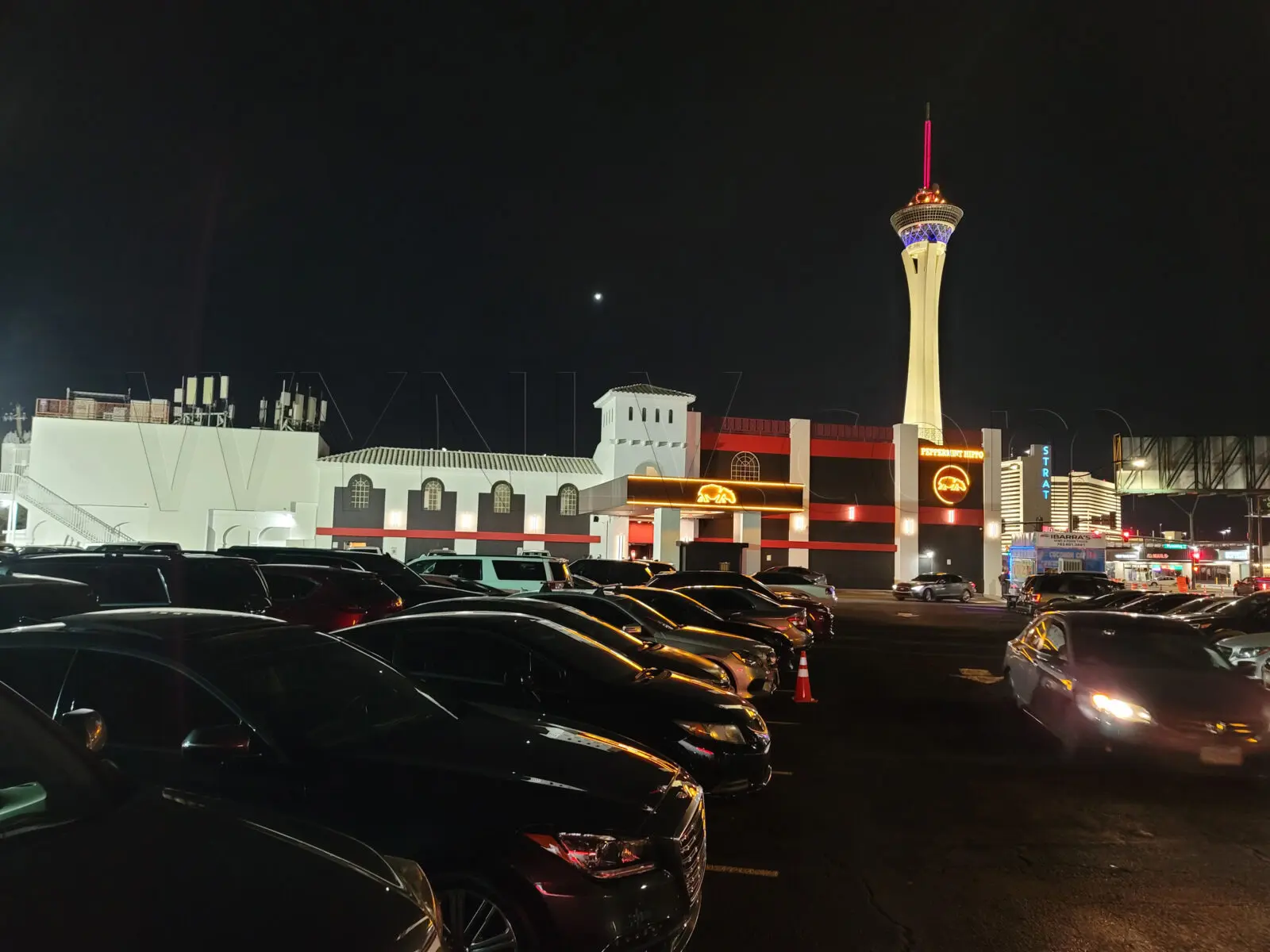 Entryway
When you approach the entryway at Peppermint Hippo, you'll be greeted by the security staff. Everyone gets a full pat-down to ensure the security of all the guests. There's an attractive hostess to answer any questions you may have and to help you get settled.
Once you walk down the entryway, you'll see it, you can't miss it. The proprietors flew in a guy all the way from Europe to create and assemble the iconic Peppermint Hippo metal sculpture. If you ask nicely, you can take a pic with it, just make sure no guests, staff, or dancers are in the shot to protect their privacy.
Just past the sculpture, you'll find the Entryway Bar. This is a perfect spot to grab a quick drink before you decide where you want to sit. Also, the lighting in this area is more intense than you'll find in most strip clubs. As such, the girls don't linger here for long, so if you want to grab a drink without being approached, this is your spot.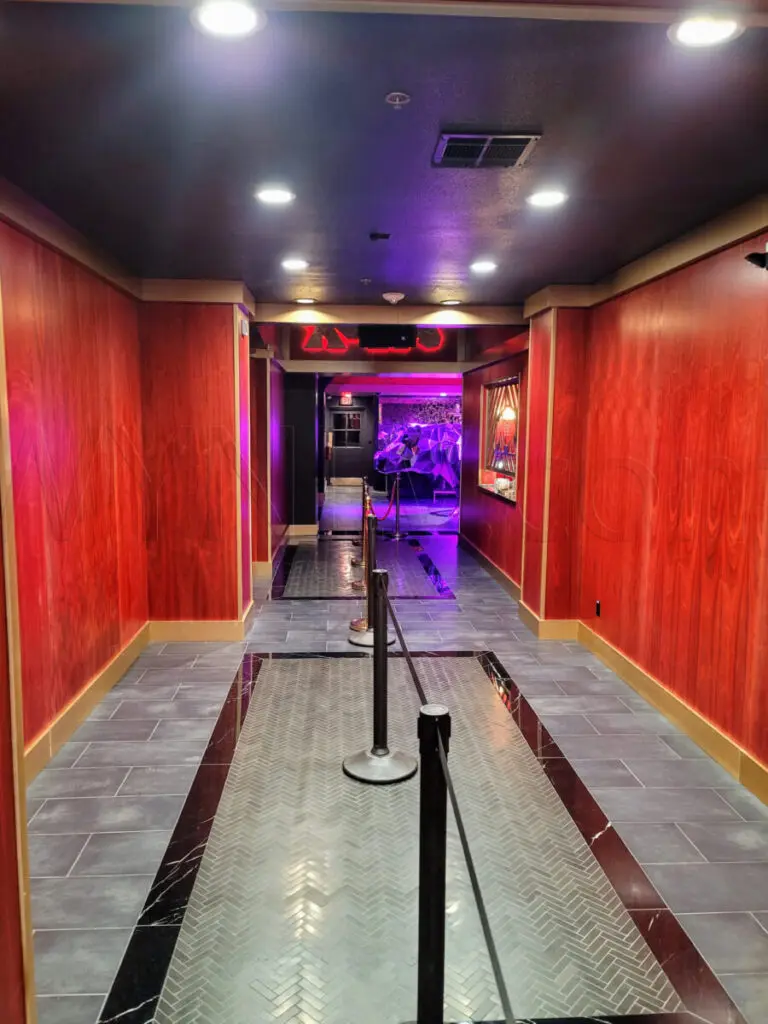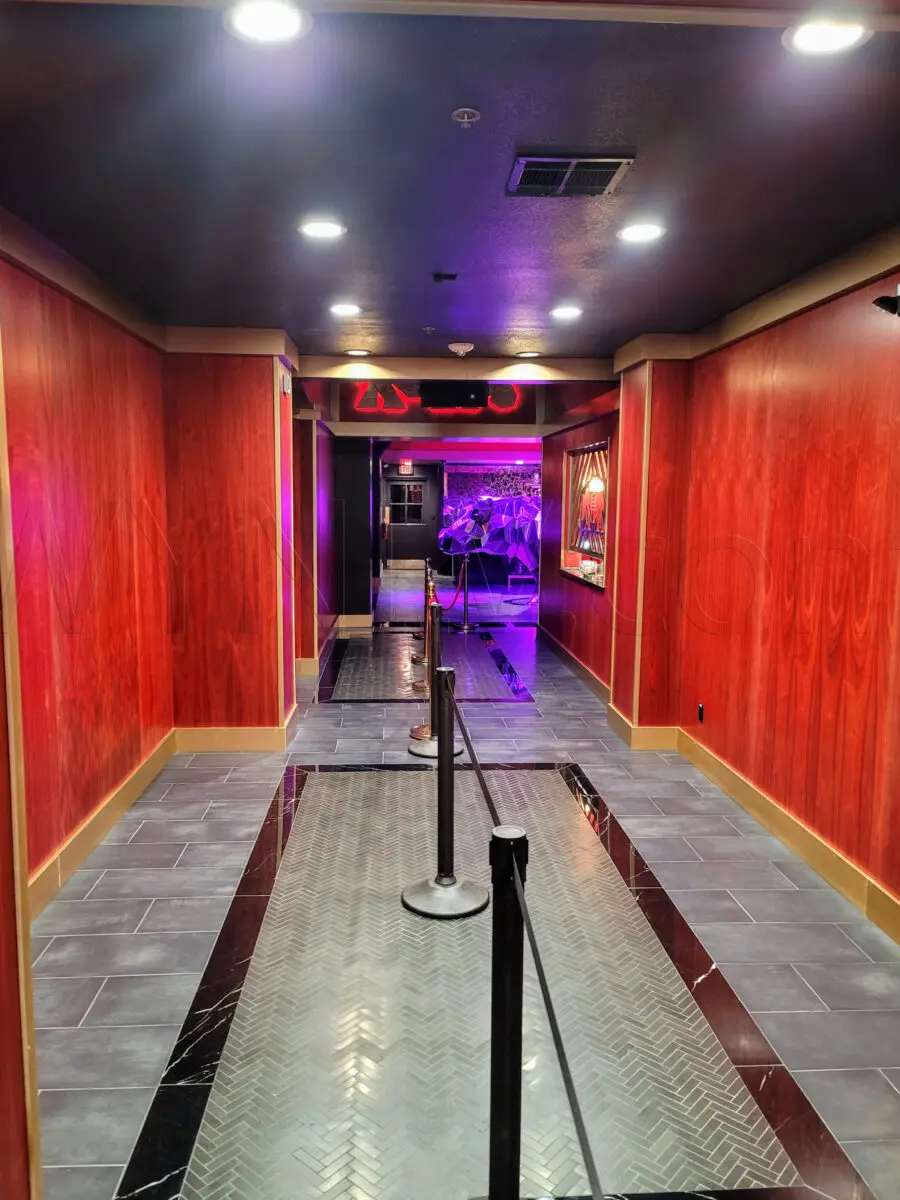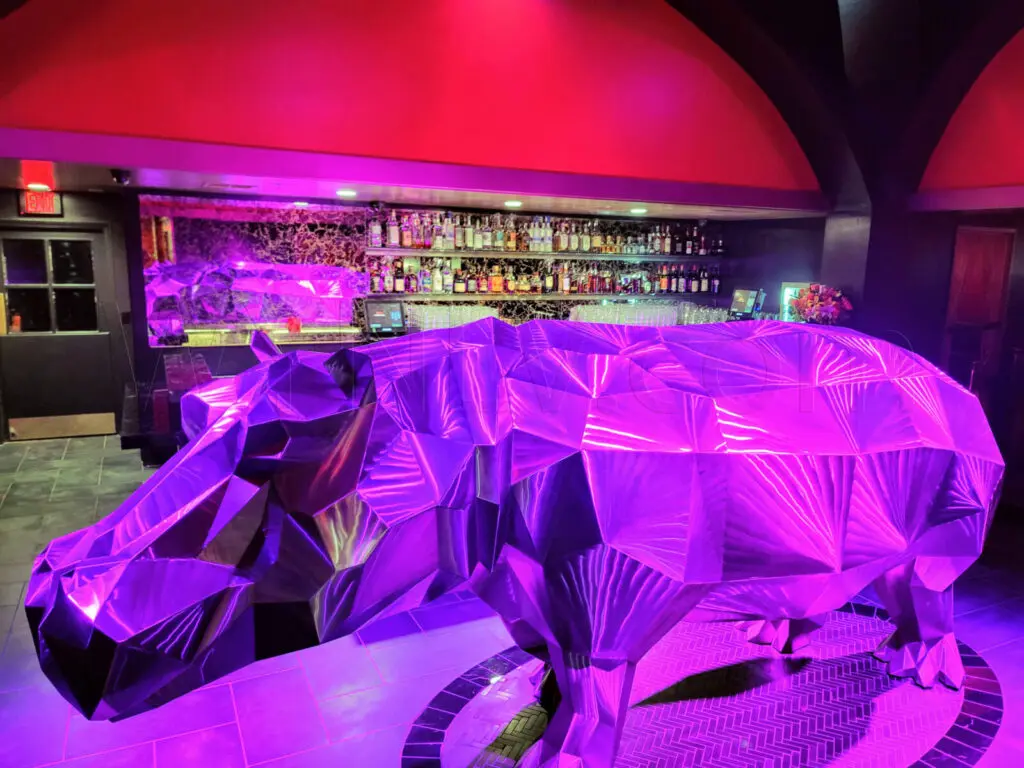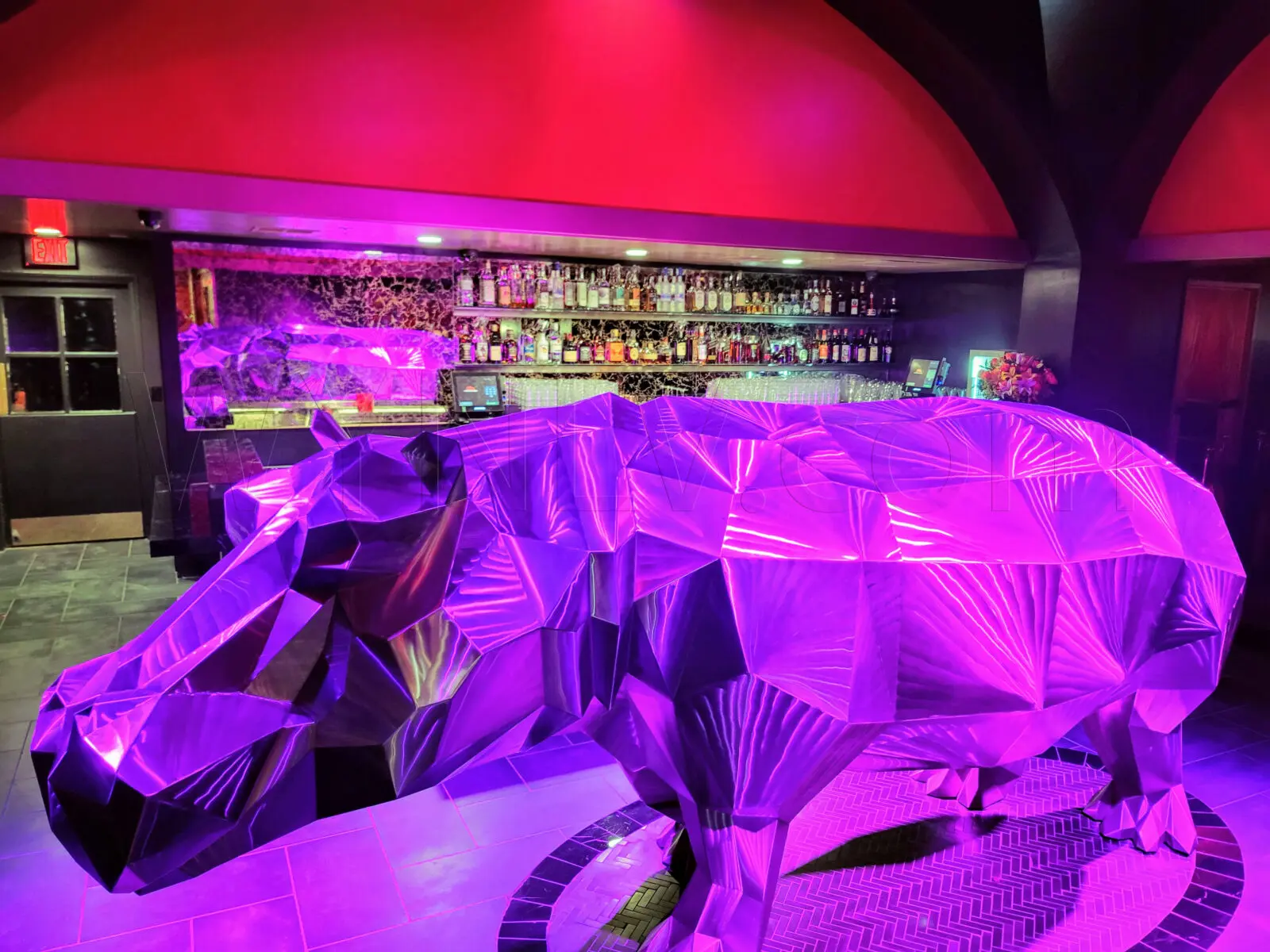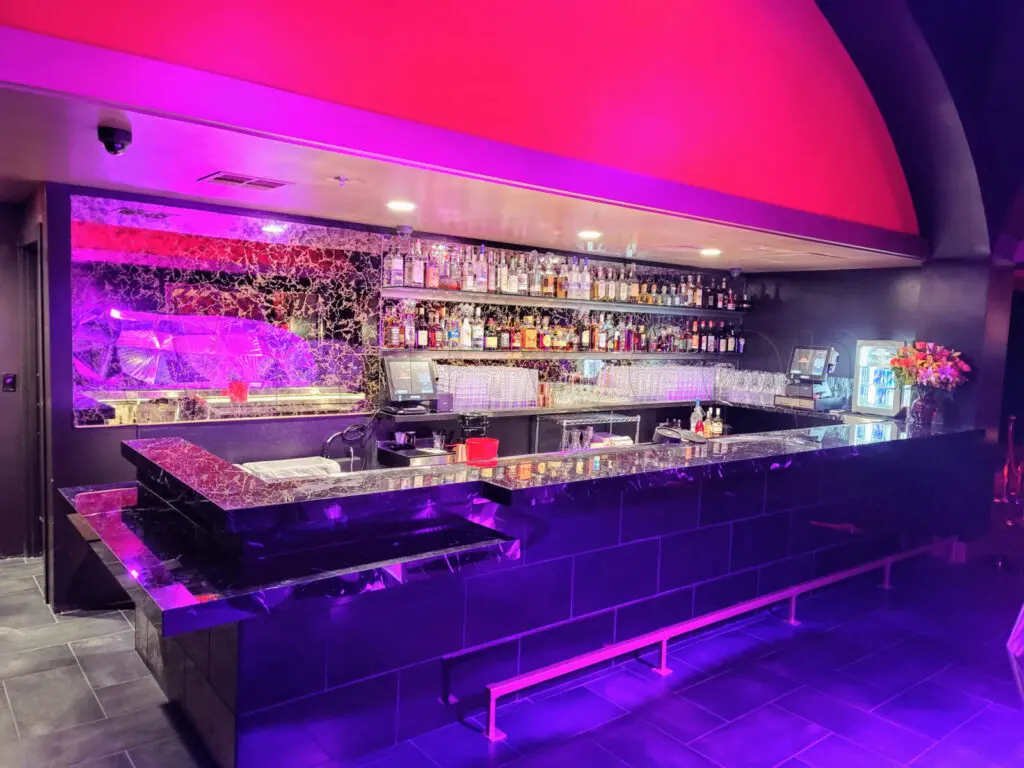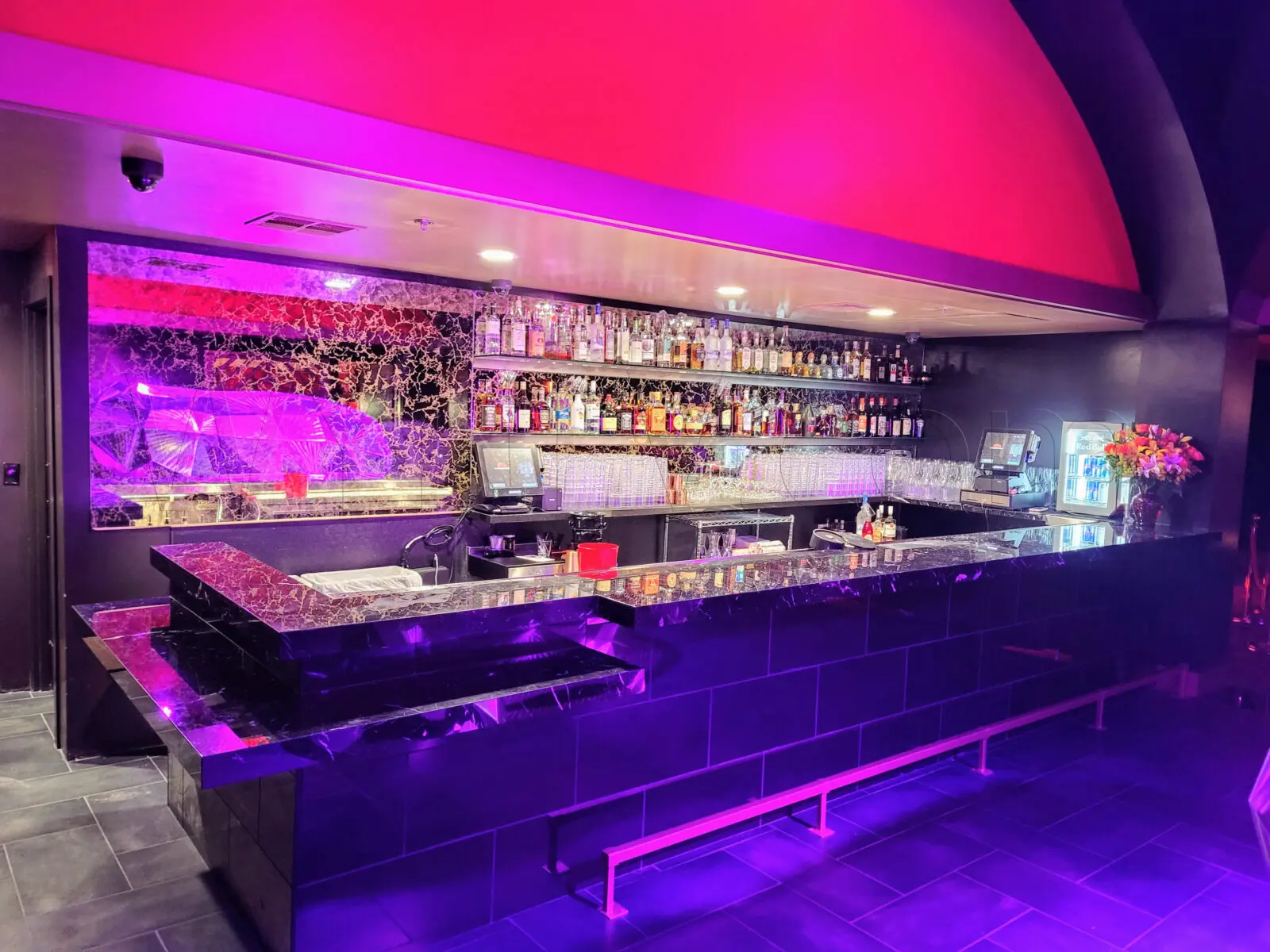 Peppermint Hippo Main Stage Area
Off to the right you'll find the main stage area. This is where the bulk of the action goes down, so finding a seat in this room is always a good move. To the back left of the room, you'll find the DJ booth. Straight in the back is the main bar. In the center of the room is the main stage in all its glory. The stage is pretty large, accommodating two stripper poles, and great lighting and effects.The music vibe is mostly rap, hip hop, and R&B with a splash of House/EDM. Of course, this will vary based on the DJ that is playing the night you go. Some prefer to play EDM remixes, and others focus more on the hip hop/club vibe. Either way, the sound is amazing and will be songs you know.To the right of the room, you'll find the VIP tables. These are for high rollers and come with a service minimum of $2,000. When you see groups sitting in this area, you'll notice the hottest dancers in the club flock to their tables. So if you have the means, definitely try to book one of these. You'll be surrounded by amazing talent without having to fork over $100 for every 3 songs to keep them interested.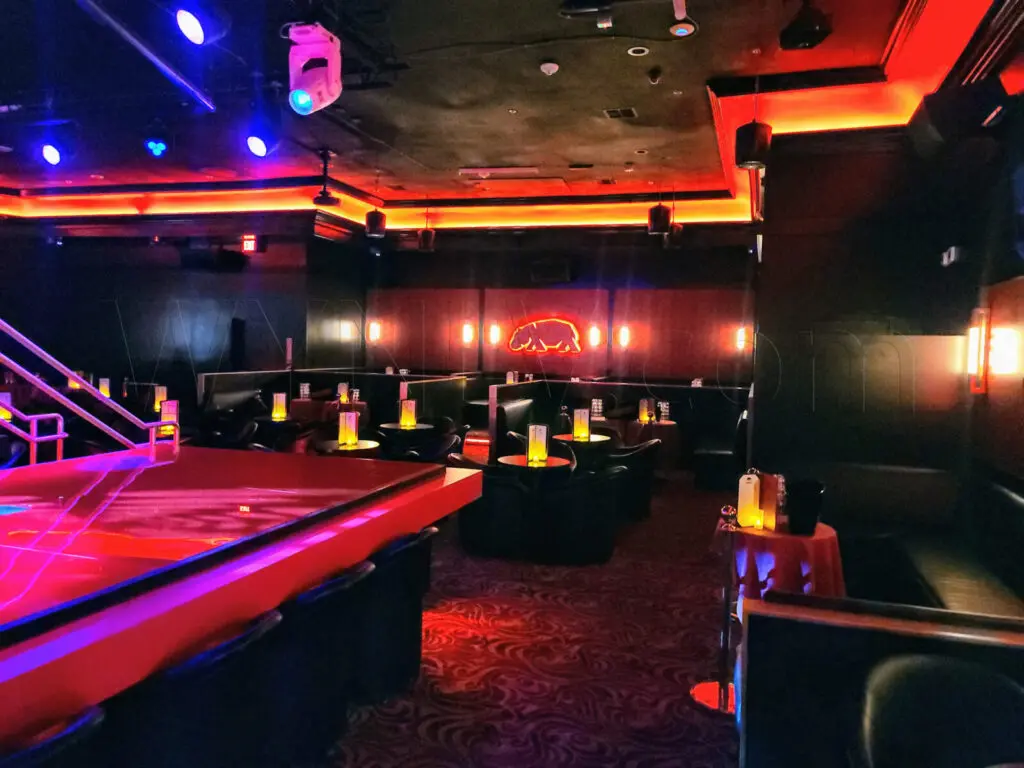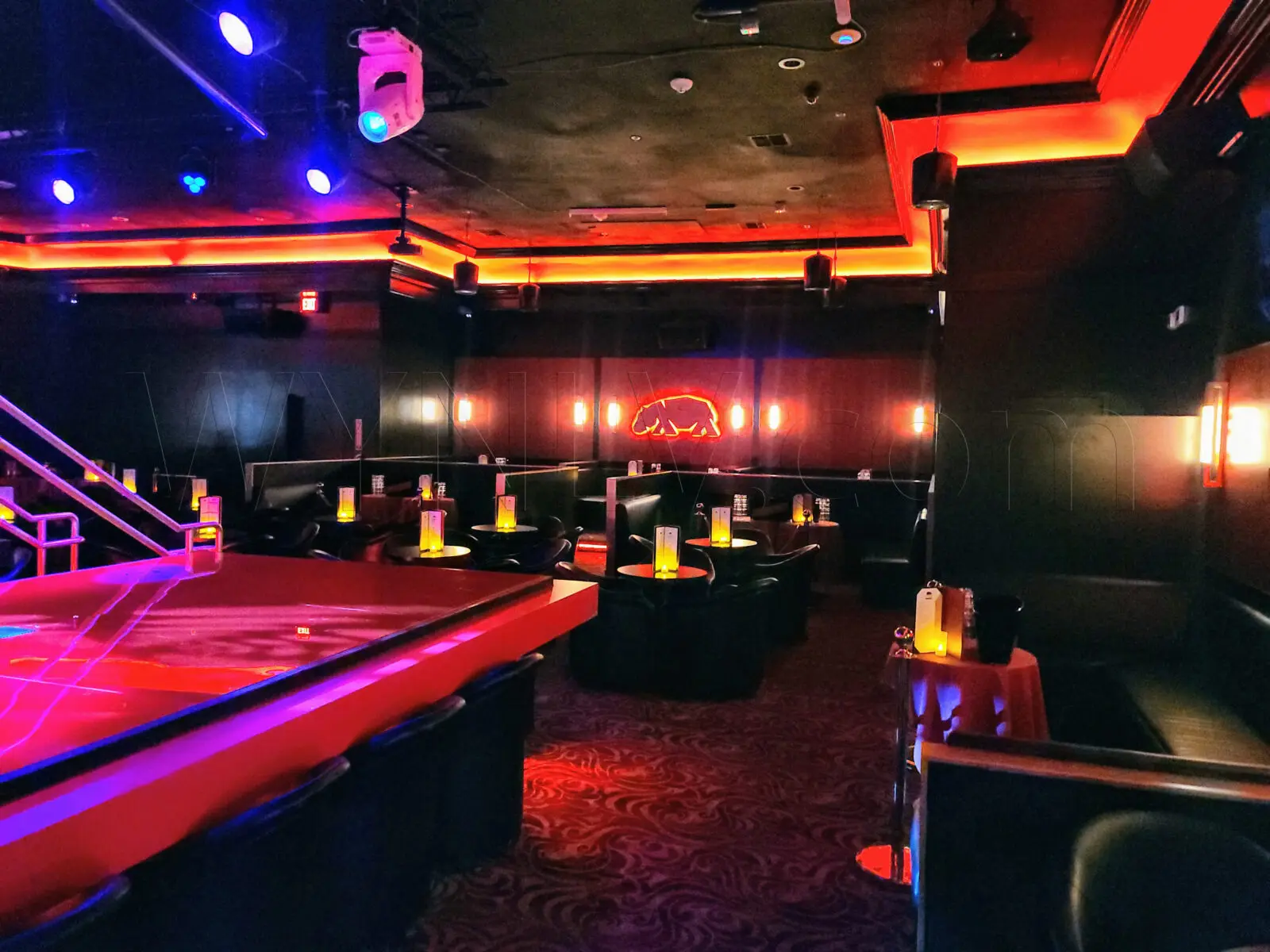 Overflow Room & Second Stage
From the entryway, if you look to your left, you may notice the area curtained off if it's not busy. This is actually a great design choice you'll see at the well-run gentlemen's clubs in Las Vegas. The idea is that you want to funnel guests into the same area so that there is a party vibe. When it gets busier, you open up more floor space to allow everyone somewhere comfortable to sit.
The second stage is basically the same as the main stage, so if you sit in this area, you'll still get a great show. There's a cool bar at the back, and what could be the best feature of the whole club: a walk-in bottle cellar. You can't just walk into the bottle cellar area. Well, you could, but then you would be forcibly ejected from the premises by at least one massive bouncer, maybe two if they're really into it.
You'll see magnums of Grey Goose Vodka, high-end whiskeys, and rare champagnes. All are kept at the perfect temperature to preserve their flavor.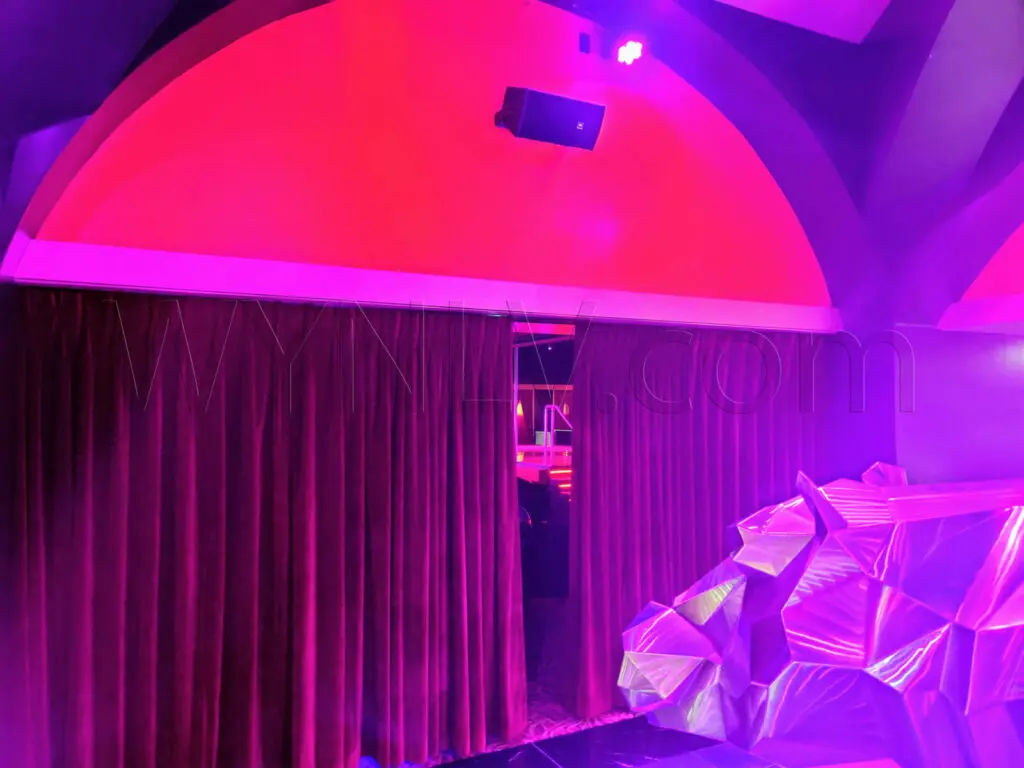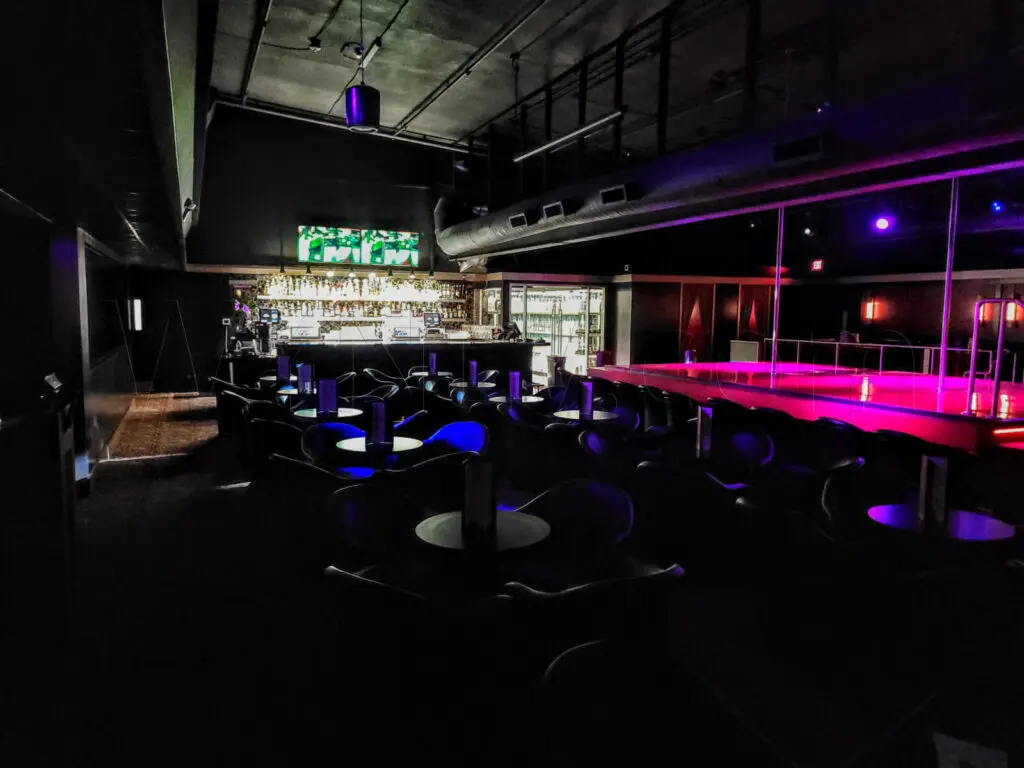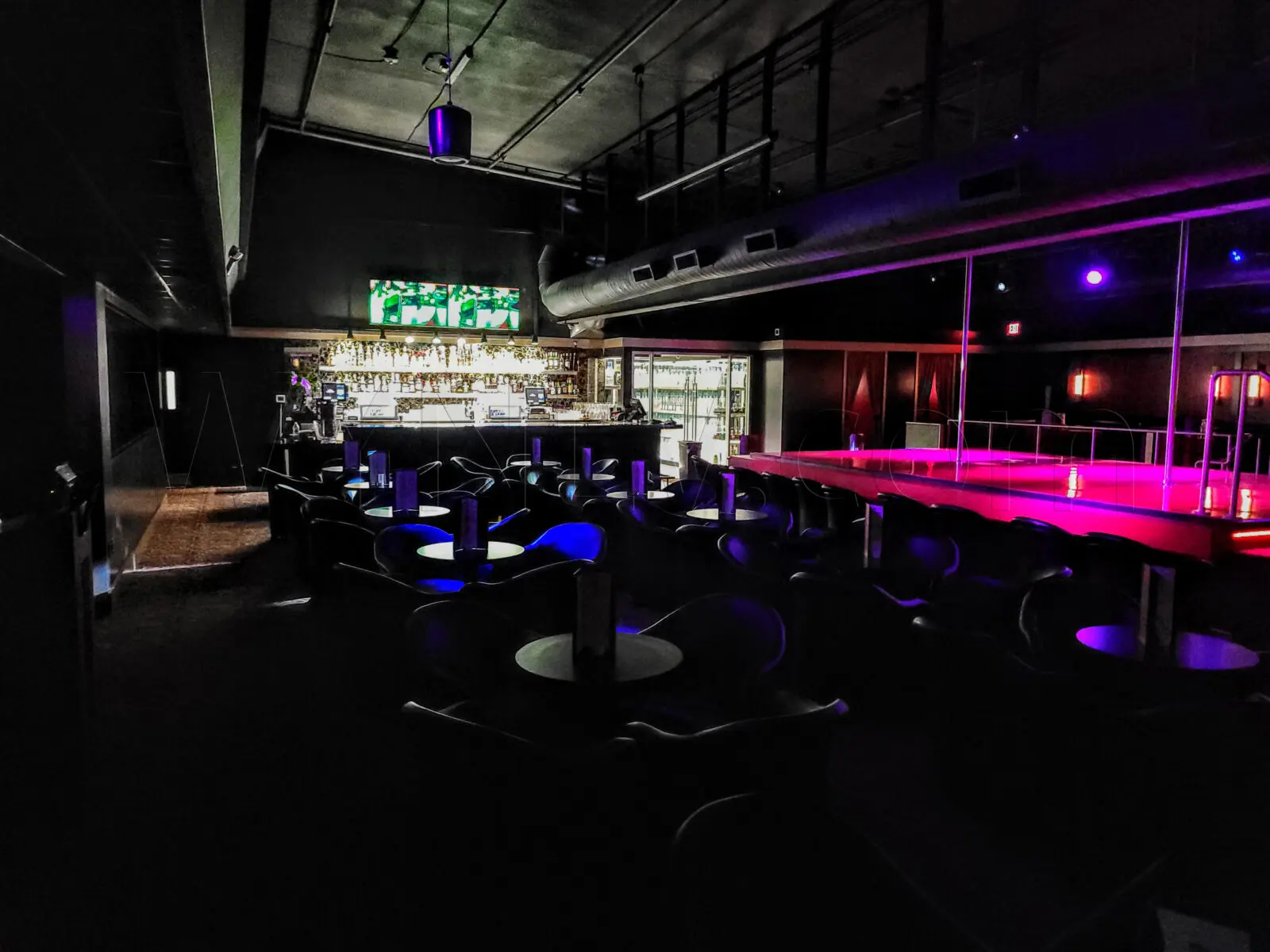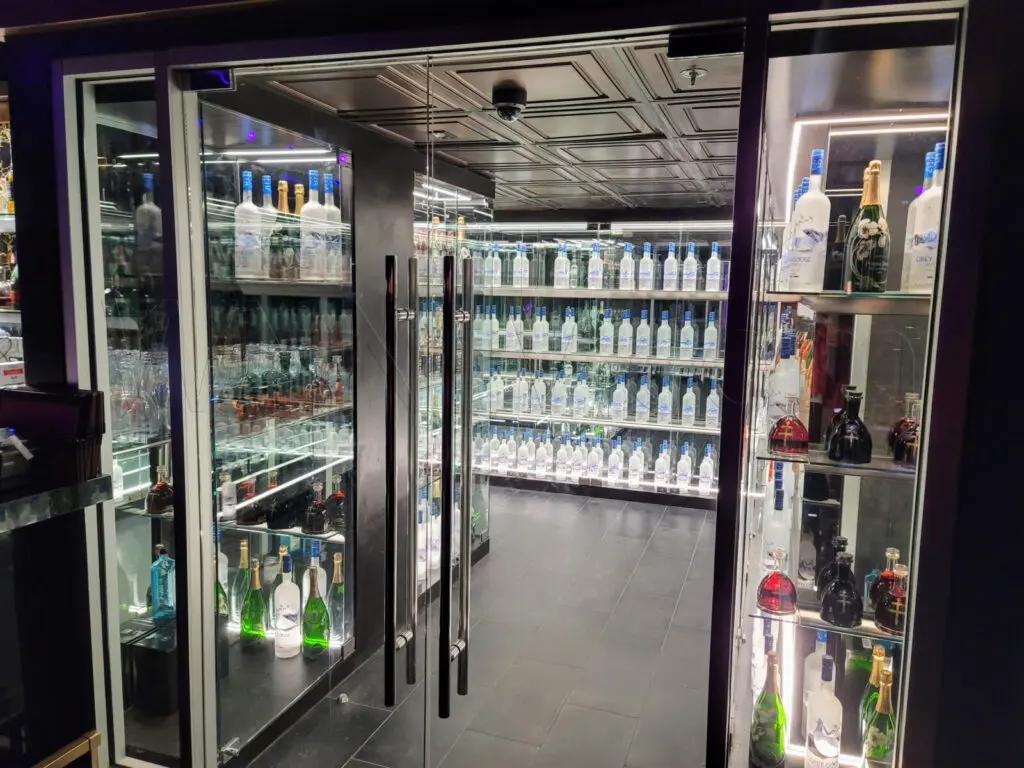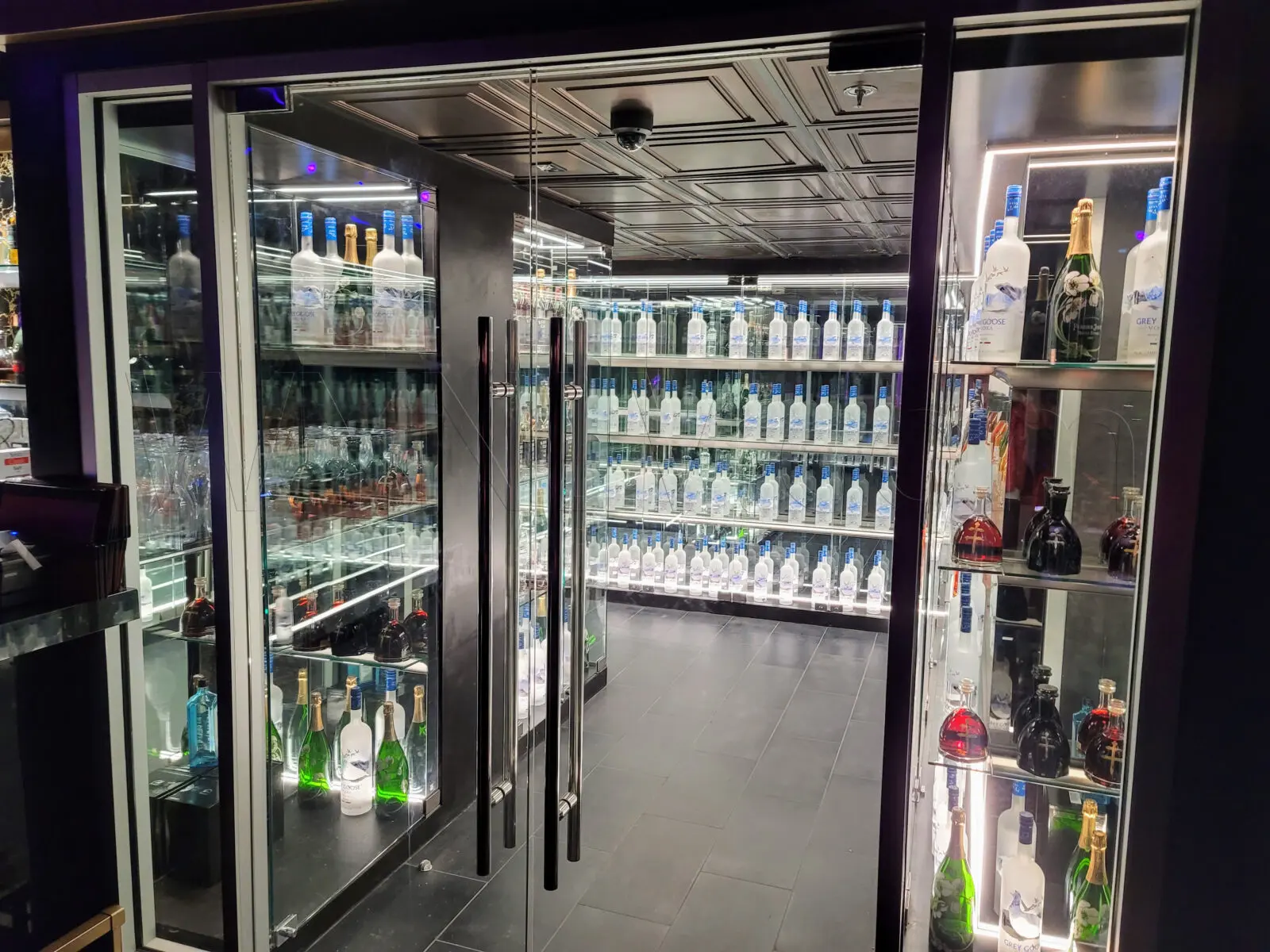 Peppermint Hippo Private Dance Areas and VIP Rooms
There are so many options to spend some private time with your favorite strippers. Quite honestly, maybe too many. There are 3 song single booths. There are celebrity rooms with enough room for maybe 4 people. There are larger private booths for half hours. Even larger rooms for hours. Then there are entire suites if you have a larger party and a hefty bankroll. Honestly, I'd ask for a manager to go over the options, then find your girl and go to town. We tried asking one of the dancers and I was more confused than before initiating the conversation.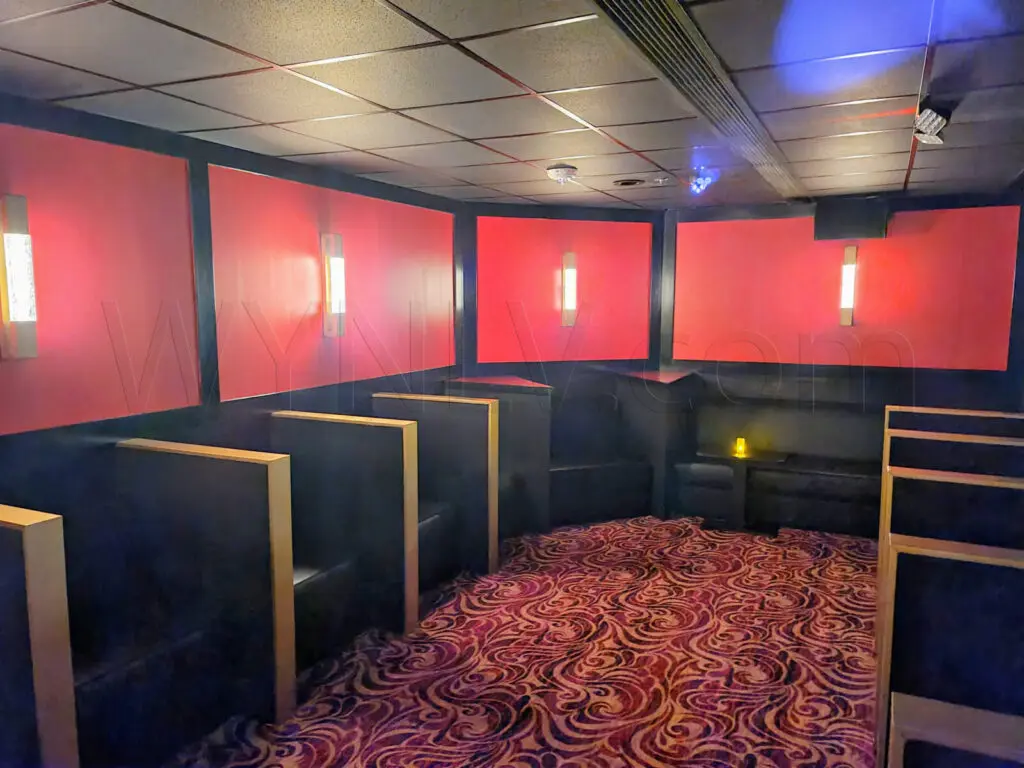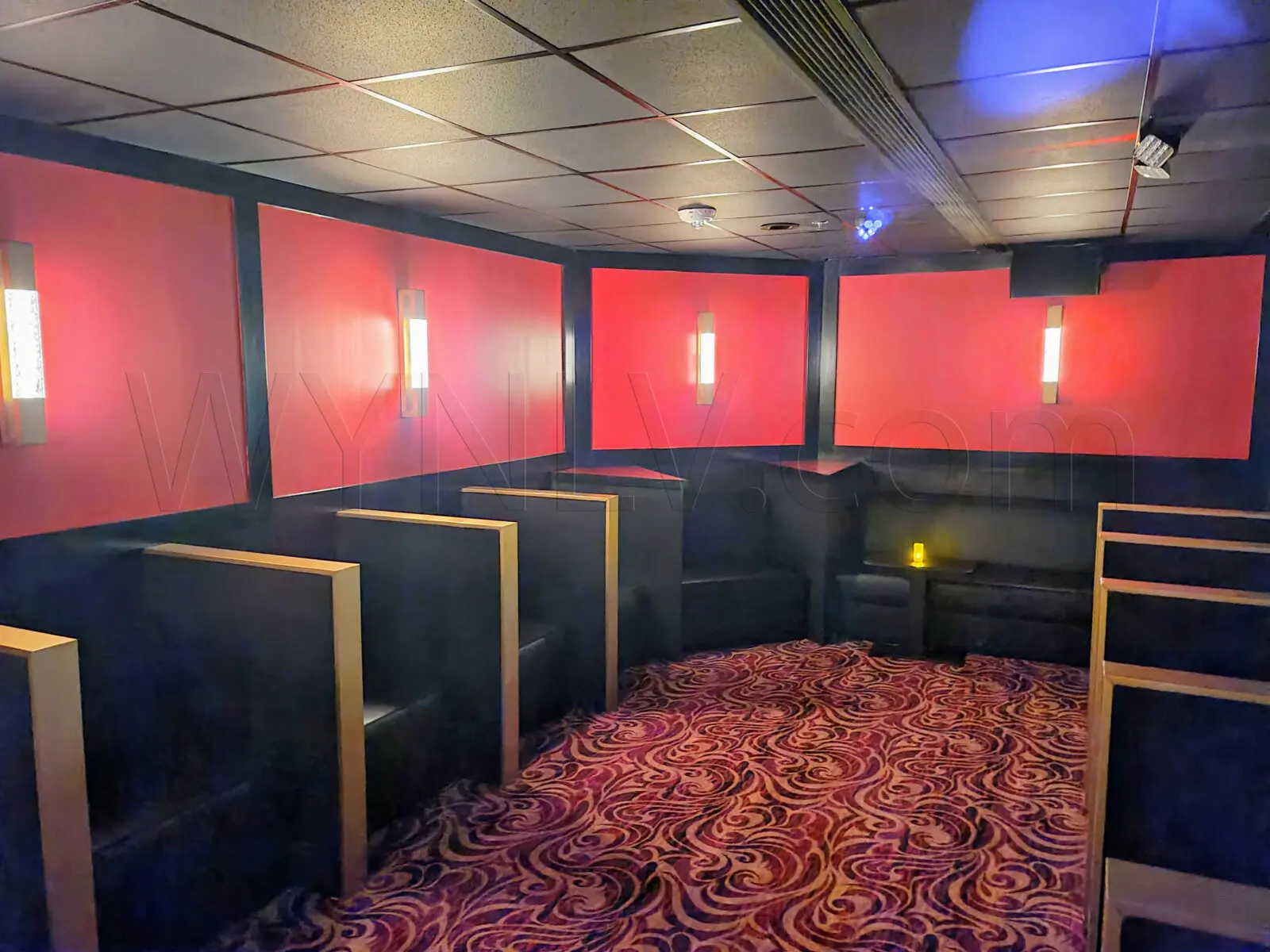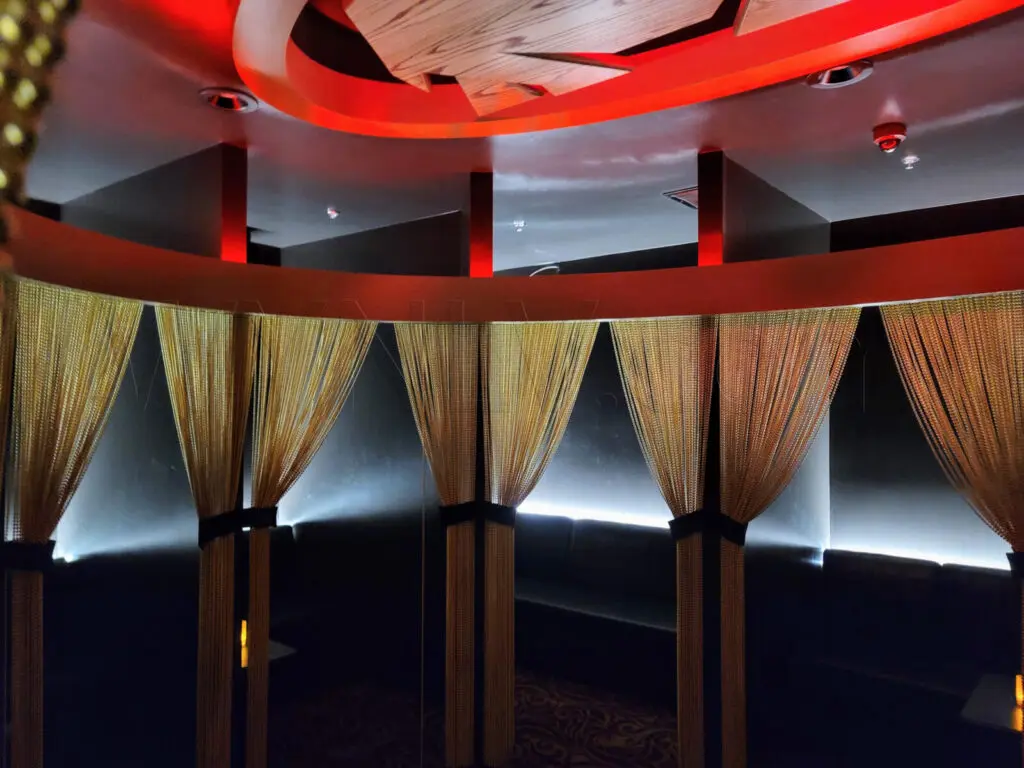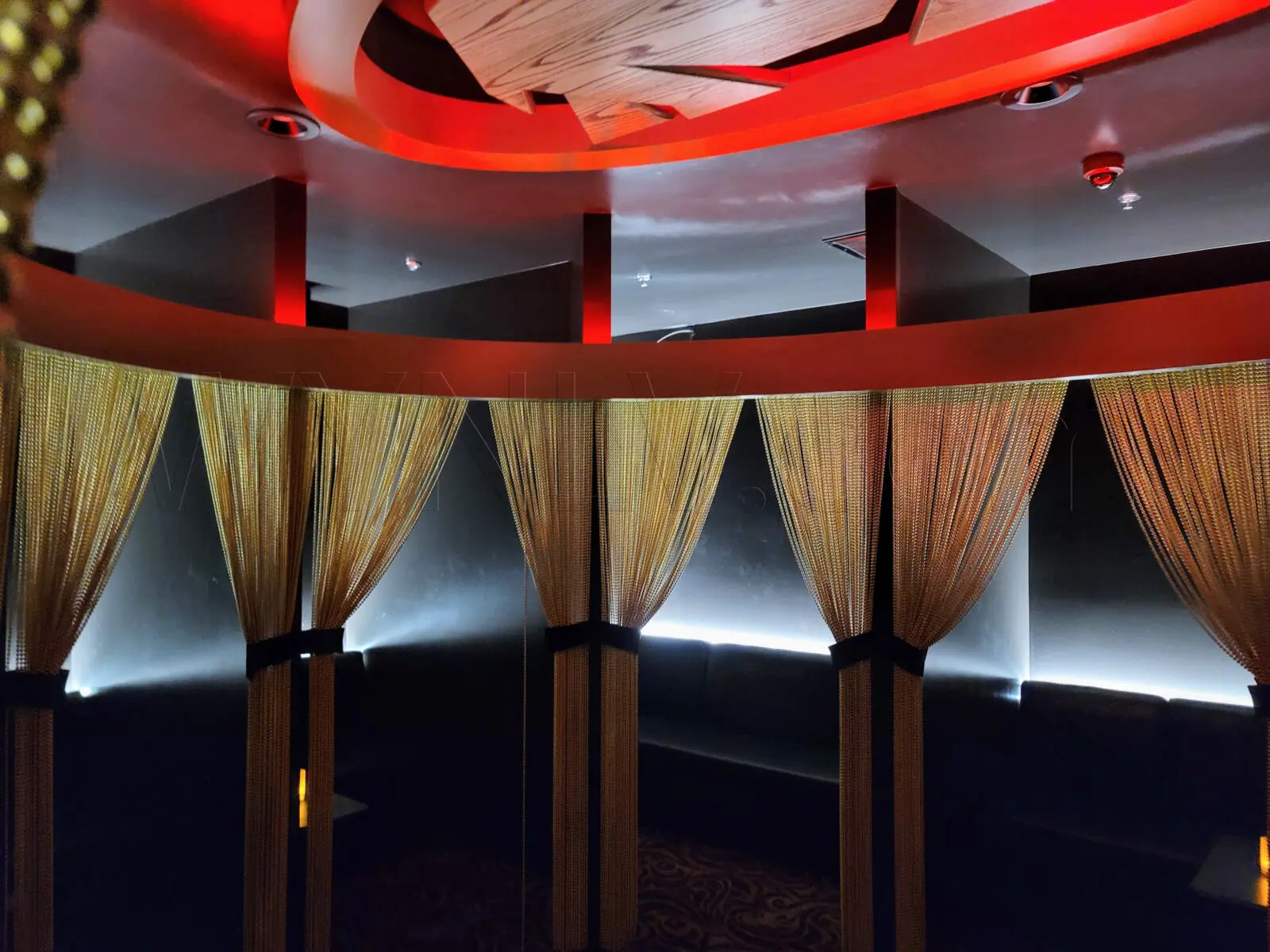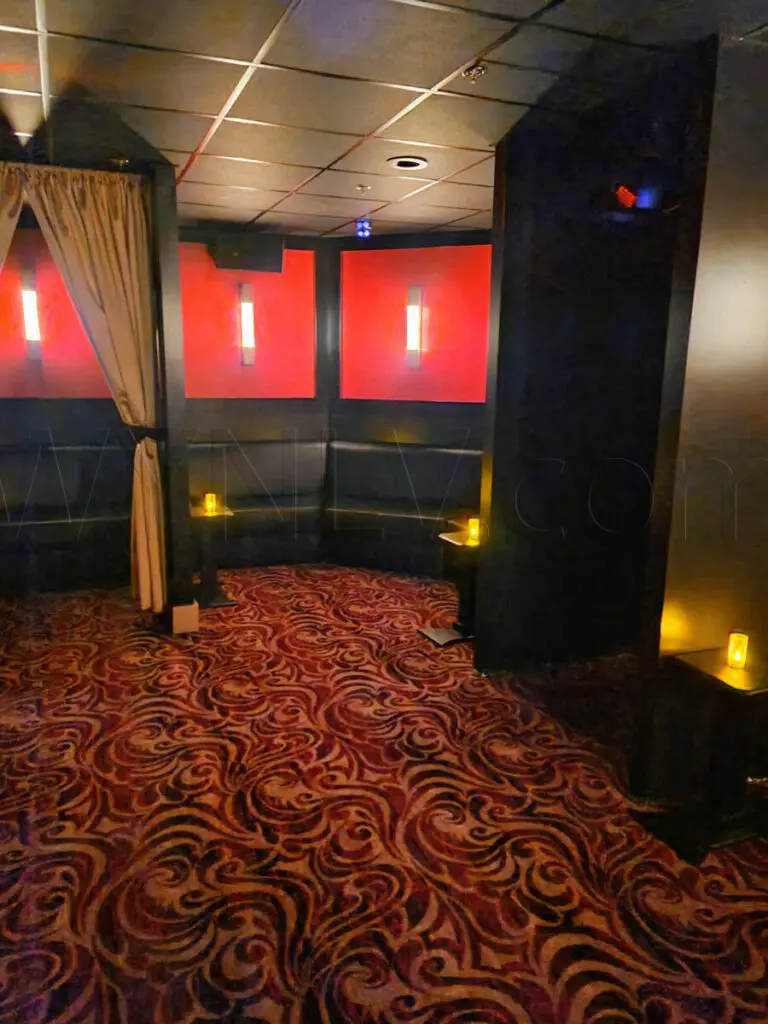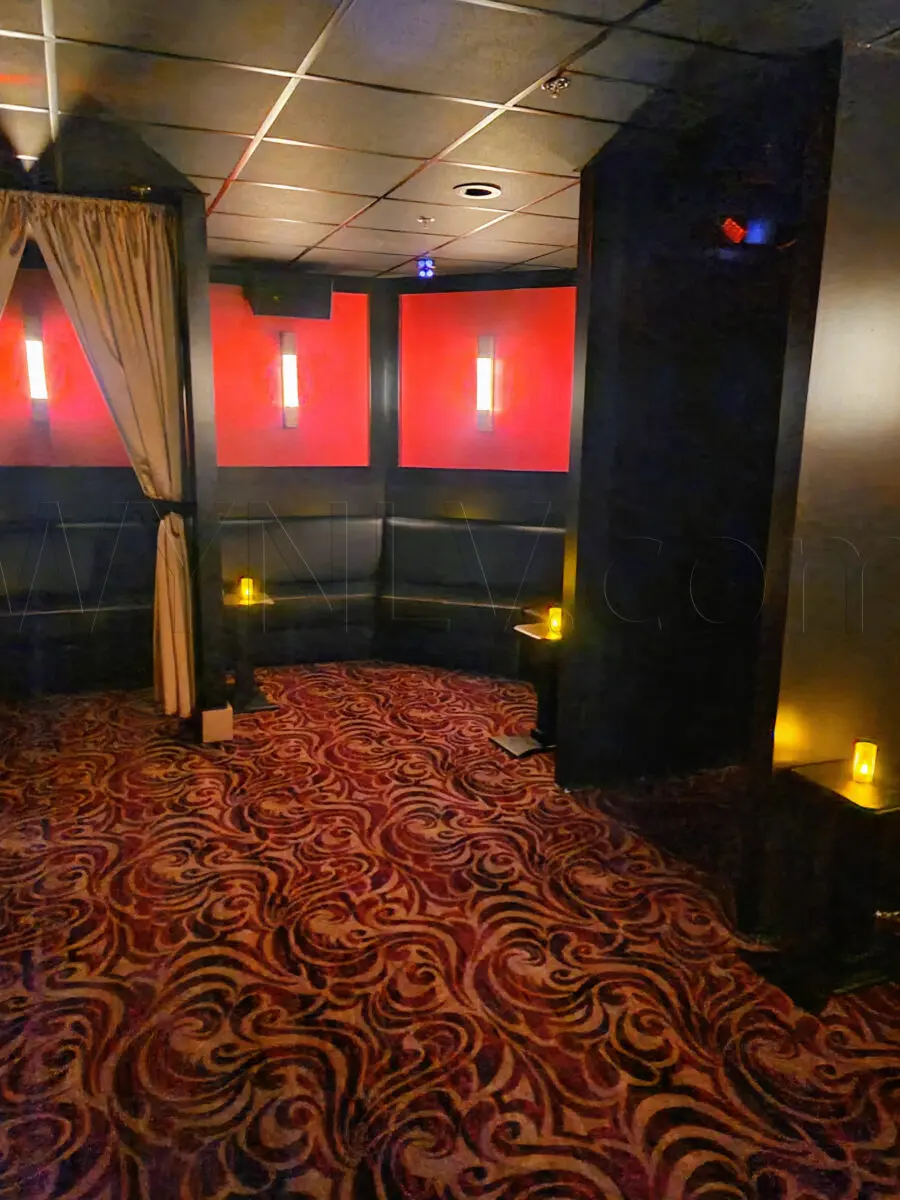 DRESS CODE at Peppermint Hippo
The dress code is casual, but you'll want to keep in mind a few rules:
No tank tops (applies to guys only)
No athletic wear (track pants, sweats, jerseys (except during major sports events)
No dirty, ripped, or torn apparel
No plain white t-shirts
No gang patches, colors, or regalia
No headgear (hats, helmets, masks)
On busy nights, you want to skew towards upscale, as the hosts may pull you to the front of the line if you look like you're going to spend some money.
In general, just dress nice and you'll be okay. We realize it is hot as the topics here during the summer. So, guys, you can wear nice shorts, nice flip-flops, and a nice t-shirt and be okay. If you think you might have an issue, just call and our hostess can help you. When in doubt, be conservative, nothing ruins a night faster than getting stopped at the door for a dress code violation!
Girls you can pretty much get away with anything reasonable, just keep in mind the rule about torn/ripped/dirty clothes, especially jeans!
Peppermint Hippo Prices
As you would expect from a high-end Vegas gentlemen's club, Peppermint Hippo Las Vegas isn't for the cheap or frugal, but your money does go pretty far at this club as opposed to some of the others. They seem to have good deals for bottles and dances while they build up their clientele. You will have to pay cover, but there are some ways to work around that. For starters, I have broken out their prices for you:
Transportation and Cover:
If you take a taxi, between the cover and your ride there and back, it is going to cost you $75 or more.
Uber might be cheaper, but you are still looking at a $30 cover. If you know Las Vegas, $30 is a cheap cover.
Want to drive yourself? Just pay the $30 cover fee.
Now the best deal is to give us a call before you go and we can get you free VIP transportation to the club, waived cover, 2 drinks included, and expedited entry all for $50 per person. Simply give us a call at (702) 935-5790 or book online.
Table Dances, Lap Dances, & Private VIP Lap Dance Rooms:
A main floor lap dance is going to cost you $20. That is a good price for this town.
A VIP booth for 3 songs is going to cost you $100
A small VIP room for a half-hour will run you $200
A larger, more luxurious VIP room for a full hour is going to cost $500
Looking for the full private room 1-on-1 experience? One hour will cost you $1000+
So overall, the prices aren't over the top. You can expect that or worse at just about any gentlemen's club in Las Vegas. Some places will charge you $60 or even $80 for a lap dance, and that's after paying a $100 cover!
Hookah Lounge
If hookah is your thing, then Peppermint Hippo has you covered.  They put a lot of pride in their flavor and overall hookah ambiance.  It definitely adds to the overall chill vibe of the club. Most of the girls will even join you for hookah. It is a great addition to the already great atmosphere of the place. Hookahs can be enjoyed in the main stage area, the overflow room, or any of the private VIP rooms.
Management
You'll find the management at Peppermint Hippo to be first class. As is customary with the local high-end gentlemen's clubs, when you arrive you will be greeted and escorted to your seat if you have one, or you can find open seating. If you are interested in touring the club, the floor manager on duty will do an amazing job of explaining all of the amenities that are available. During our visit we had the pleasure of getting the full tour from Bob H. He knew all the ins and outs of the clubs and even got us access to areas not yet open to the public.
The entryway bartender was super cute and helpful. Even though I was only drinking Red Bull and water, she still gave me her attention with a smile. When I walked to the floor, the floor waitress was gorgeous and kind, even though I already had a drink in hand.
The Strippers
The dancers here are what you expect at high-end gentlemen's clubs in Las Vegas. They are there to make money, but if it's slow, and you look like you're a spender, they will chat you up. Best of all, if you're not interested, simply say, "Thank you but I'm just hanging out for now." They'll leave you alone with no drama. Don't feel pressured to get a dance from every girl that approaches you. If you see someone you like, go for it. The last thing you want is to be chatting it up with someone you're not interested in, then see your dream girl walk by.
The lineup at Peppermint Hippo covers the full spectrum of girls from all over the world. No matter what type of girl you like, they'll have one on rotation if it's prime time. If you have something particular in mind, feel free to ask the manager if they have anyone that fits your criteria. Otherwise, you could be waiting a while for them to come on stage. Also, I found out that the strippers have the option to buy themselves off rotation for the night. So a lot of the super hotties that are good at closing dances, well, they may never even hit the stage. So don't be shy. You know what you want, so go get it!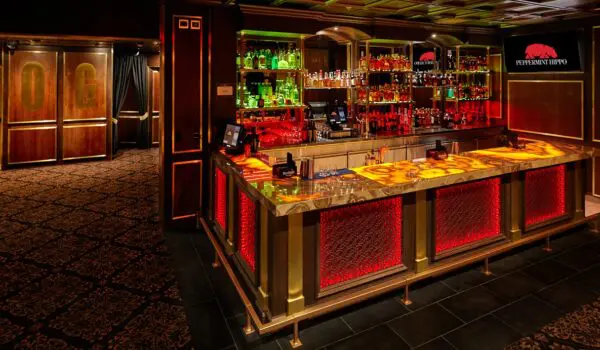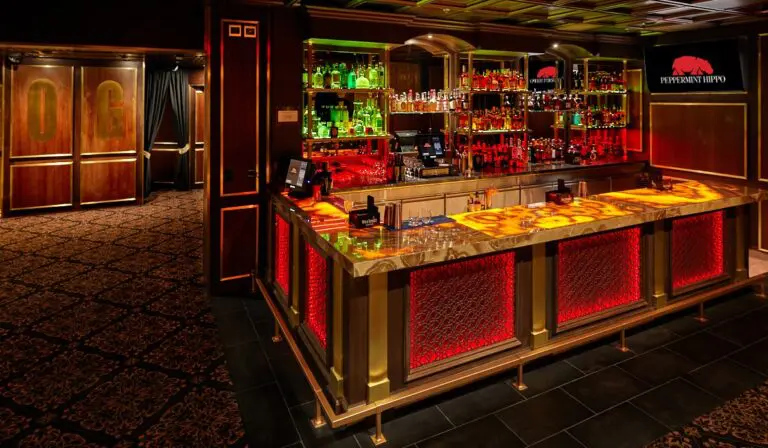 The Best Kept Secret at Peppermint Hippo
The ultra-exclusive VIP lounge, called the OG Room is now open. Most people don't know it but there is a secret room hidden inside Peppermint Hippo. Where's the secret door? Well, it's hidden in plain sight. You may have noticed that the bottle cellar has a left turn if you paid close attention. You walk through that door and into an incredible VIP luxury lounge. Again, you can't just walk in there. You have to know someone. You need to have the password. Only high roller guests get access.